By the way a small numbers game: A lot of people worked on EXODOS about 450.000 minutes – at a rough guess. The movie has a length of 102 minutes, and this means over all, that all involved have a certain right to expect, that in turn 4.412 people look at the whole movie. Beyond that there exists no legitimate claim, au contraire, beyond that every minute the movie seen by somebody means a princely gift to movers and shakers, actors, gaffers, makeup artists, cameramen, sound designer etc.
Probably this attitude is much more cool, and we should get used to it!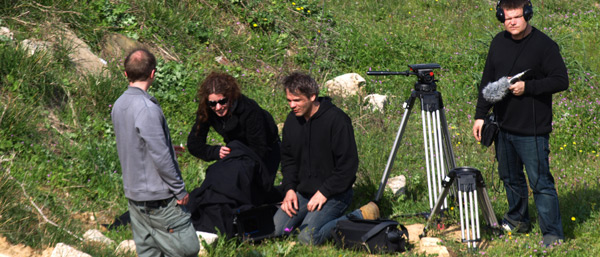 Mal eine kleines Zahlenspiel: An EXODOS wurde grob geschätzt von zahlreichen Leuten insgesamt 450.000 Minuten gearbeitet. Da der Film 102 Minuten lang ist, bedeutet das, dass alle Beteiligten mit einer gewissen Berechtigung erwarten dürfen, dass 4.412 Menschen ihrerseits den Film in Gänze ansehen. Darüber hinaus gibt es keinen gerechtfertigten Anspruch, im Gegenteil, darüber hinaus wird jede Sehminute zu einem großartigen Geschenk an Macher, Spieler, Beleuchter, Maskenbildner, Tonmischer, Kameraleute usw.
Das ist die wahrscheinlich coolere Haltung, die sollte man sich halt einfach mal angewöhnen!